Case Studies :Grit pump for Scottish Water
EMS has supplied a VRM175 ram pump on a trial and evaluation basis to Scottish Water's Shieldhall STW in Glasgow to pump grit from the six grit channels of the works inlet.
<![if !vml]>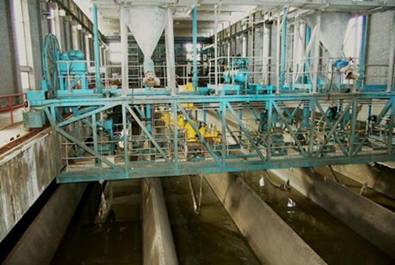 <![endif]>
The VRM175 pump is mounted upon a travelling bridge above the grit collection channels. The grit lies at the bottom of the channels approximately 5-6 metres below the suction inlet valve of the pump. The grit is drawn through flexible hoses that reach to the bottom of the grit channels. The VRM175 pump has been specially kitted to overcome the rapid settlement of the grit inside the pump as it operates and the 5-6 metres negative suction head to be overcome each time the pump starts.
In practice, the pump accommodates the abrasive nature of the grit and the rising and falling levels of grit and water in the channels without complaint. The pump has been found to be self-priming at all times, irrespective of the water level.
Many pumps have been trialled on this application in the past, most have been destroyed by the grit and none have been successful. On the strength of the success of the pump, Scottish Water are proposing to install three, larger, VRM250 pumps on the bridge, whereby each pump will be PLC controlled to automatically de-grit two channels consecutively.
Other job references
De-sludging Primary Tanks at Leeds
Roundhill S.T.W – Thickened Sludge Ram Pumps
Spare Parts available for retrofitting to Willet Pump
| | | |
| --- | --- | --- |
| <![if !vml]><![endif]> | <![if !vml]><![endif]> | <![if !vml]><![endif]> |
| | Chevron Seal | Valve Box and Valve Ball, Valve Seat |